Most ORRO rings are available from US Size 4 to 10. View product page for option.

Women's rings typically range from size 4 to 9. The most commonly purchased women's ring sizes at ORRO range from size 5 to 7. Size 6 is the most popular ring size.

Men's rings typically range from size 8 to 10. The most commonly purchased men's ring sizes at ORRO range from size 7 to 10. Size 9 is the most popular ring size.
If you are measuring your ring size from your local jeweler, determine your ring size according to your country's standard.

Then use the International ORRO Ring Size Chart to convert to the corresponding US ring size to place your order.

ORRO Ring size follow the standard US ring size chart.
Refer to our measurement chart or the ruler found in our size guide.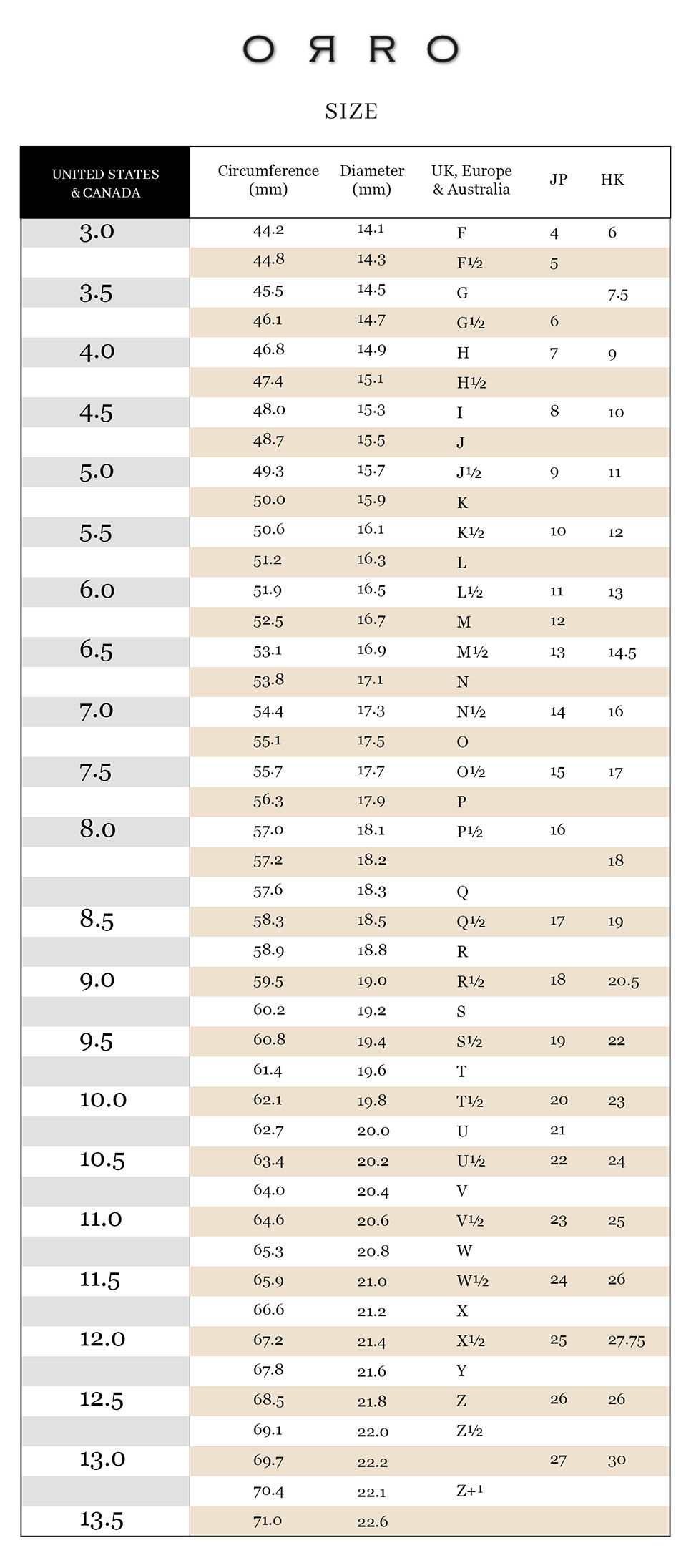 How do I measure my girlfriend's ring size?
It may be nerve-racking to find out the ring size of your future partner while planning for your proposal, but fret not – here are some tricks for you obtain her ring size while keeping the element of surprise.
Search through her jewelry box
You're in luck if she is currently wearing a ring! Keep a look out for a ring that you have seen her wear on her ring finger and wait for a chance to sneak out that ring while she is not around. Subsequently, bring the ring down to us to have it measured.
You may also trace the inner part of the ring on a piece of paper instead of taking a ring to us if there is a chance that your girlfriend will notice her ring missing. Bring along the paper and we will figure out the size for you!
Seek help from friends or family members
Phone up her close friends and family members if you do not mind revealing your proposal plan as they may have gift her a ring in the past. Don't be dishearten if they do not the ring size. Seek their help to bring her out for ring shopping to have her finger professionally measured.
Make up a story that you are planning to buy a ring for your mum or a close female relative and ask her for her ring size as a reference. But be sure that the pretend recipient is someone who is of a similar build and finger size to your girlfriend. Casually bring her down to us to have her finger measured.
Complete the story by buying an inexpensive ring to have her try it on to determine if the ring size is fitting before actually gifting the ring to your mum or a close female relative!
For custom designed rings, we would strongly advise a visit to our showrooms to have her finger measured as custom pieces are specially crafted and may not be able to be resized depending on the complexity of the design.
Our ring size for the dominant hand tend to be slightly bigger, be sure to get the measurement of the finger on the correct side!
The width of the band may affect the ring size that is fitting. A ring with a wider width may be snugger compared to a ring with thinner width.
If all the methods above doesn't work out, resizing is still an option. Bring her down to us after you have proposed and get it resized. Do note that some rings may have certain limitations in how much it can be resized. Do let us know your intention of resizing and we will be happy to offer the best solution to you.