ORRO embodies elegance, timelessness and practical wearability. Our designs are renditions of enduring sophistication and everyday wearability while our motto is that fine jewelry should be worn, enjoyed and NOT locked up in a safe.
We believe that the universal allure of fine jewelry deserves a pragmatic option – whereby stress-free prices, superior quality and excellent workmanship can be enjoyed by all. ORRO Private Collection brings you exquisite fine jewelry you can have fun wearing without breaking the bank. In the world of fine jewelry, tiny details make all the difference. At ORRO, we take pride in our strong commitment towards attention to detail. Every feature and every facet of our jewelry is carefully hand crafted and finished before it leaves the hands of our skilled craftsmen. Using only 18K White/Yellow/Rose Gold, Solid Platinum(PT950) or Platinum Vermeil, centuries-old craftsmanship is combined with modern technology and design to create world-class jewelry.
Ever think that costume jewelry looks too cheap and lacks durability, while 'REAL' jewelry is too expensive? Your dilemma has just become history. Costume jewelry has gone out of style and real jewelry has just become completely affordable.

ORRO uses only premium grade lab-grown diamond simulants which flawlessly replicates the brilliance of a genuine diamond. Matching the light performance of a natural diamond ray-for-ray; ORRO certified diamond simulants have found its place among the world's most beautiful gemstones.

Each ORRO diamond simulant stone is cut in a manner that adheres to the industry's most stringent diamond cutting standards as set by the Gemological Institute of America(GIA) – the world's foremost authority on diamond grading. A computer model based on GIA data confirms that an ORRO certificated diamond simulant offers the same brightness as a Tolkowsky Diamond.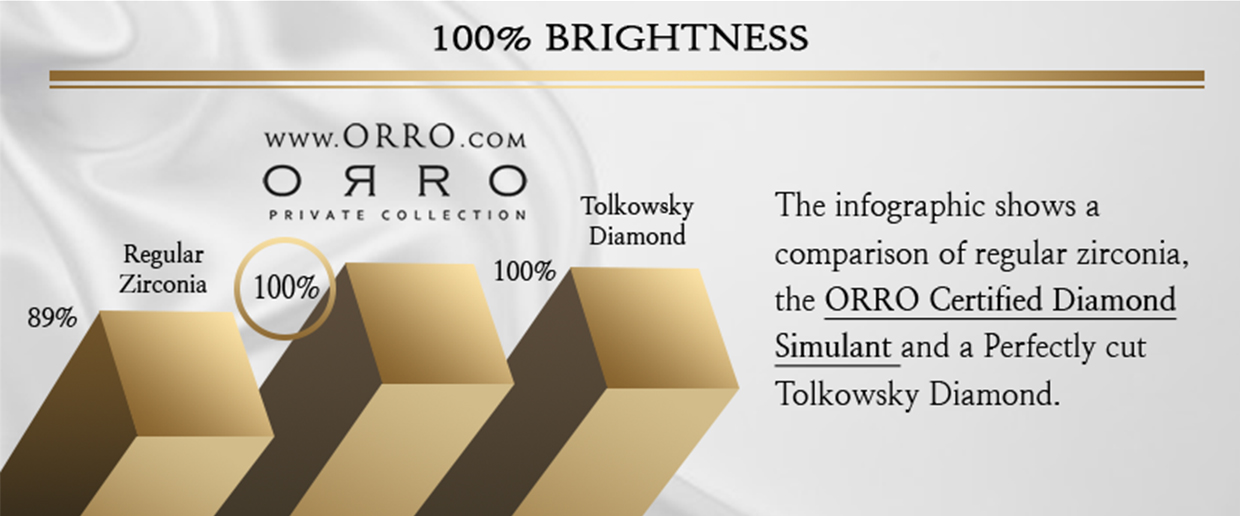 ORRO proudly presents the opulent extravagance of large diamonds, complemented with the elegance of centuries-old craftsmanship. ORRO Private Collection offers you real jewelry at prices which won't cost the world.