At ORRO, each gem set on our rings and jewelry pieces are either ORRO Certified laboratory-grown diamonds or laboratory-grown gemstones that are created and cut in our in-house state of the art facility. After years of research & development and trials & errors, each ORRO premium grade lab-grown diamond simulant is cut in a manner that adheres to the industry's most stringent diamond cutting standards - flawlessly replicating the brilliance of a genuine diamond and matching the light performance of a naturally mined diamond ray-for-ray.
Indulge in the finest gems that are available only at ORRO. Our team of dedicated master craftsmen and gem cutters, with centuries of experience between them, meticulously cut each and every ORRO Certified laboratory-grown diamond and ORRO Certified Premium diamond simulant to perfection. The gems are crafted with a deep spirit, passion, and wisdom, making them more than just simple stones.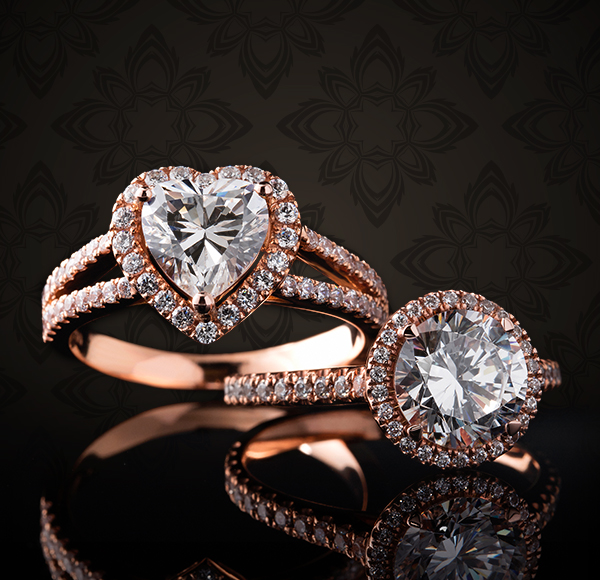 Exceptional Presentation:
At ORRO, we understand that the presentation of our jewelry pieces is just as important as their quality. That's why each piece is beautifully presented in an elegant and heavy wooden box, crafted from the finest solid rosewood used by traditional Belgian jewelers. The box is finished with a flawless glossy piano-black or piano-wood grained finish, adding a touch of modern indulgence.

In addition, each ORRO Diamond jewelry piece is accompanied by our exclusive trademark metal diamond or jewelry certificate card, which is sleek and convenient in credit card size. This certificate sets us apart as the first in the world to issue such a certificate, further emphasizing our commitment to excellence in every aspect of our jewelry.
At ORRO, we pride ourselves on our exceptional designs. Our team of skilled artisans, with over 35 years of experience in the fine jewelry business, conceptualize and create each design. The same team has also designed naturally mined diamond jewelry in the past for our parent company.

You'll find over ten thousand designs of engagement rings and other jewelry at ORRO. Each of these designs was originally intended to have naturally mined diamonds set on them and cost tens of thousands of dollars. Now, we bring these designs to you with ORRO Certified laboratory-grown diamonds or laboratory-grown gemstones at a fraction of the cost.
At ORRO, we understand that while natural diamond jewelry is a symbol of luxury and sophistication, it often comes at a very high price, making it out of reach for most people. On the other hand, costume jewelry may look cheap and lacks durability.

That's why we are dedicated to providing real fine jewelry at affordable prices, without sacrificing quality or craftsmanship. Our ORRO Certified lab grown diamond jewelry and ORRO Certified Premium lab grown diamond simulant jewelry are set in 18K Gold or platinum (PT950), and cost 75% to 90% less than naturally mined diamond jewelry in a similar setting.
We believe that fine jewelry should be worn and enjoyed, not locked up in a safe, and our mission is to make this a reality for everyone. With ORRO, you can have the elegance and luxury of fine jewelry without breaking the bank, making it accessible to all.
Visually Indistinguishable:
At ORRO, our commitment to excellence means that our ORRO Certified Lab Grown Diamonds are as genuine as naturally mined diamonds, and completely indistinguishable from them. Our lab grown diamonds are identical to naturally mined diamonds in terms of their physical, chemical, and optical properties.

Moreover, our laboratory-grown diamond simulants are crafted to perfection and are visually indistinguishable from naturally mined diamonds. Even if you try to spot the difference with your naked eye, you won't be able to tell the two apart. With our visually indistinguishable lab-grown diamonds, you can enjoy the same sparkle, beauty, and quality of naturally mined diamonds at a fraction of the cost.
Indulge in an Abundance of Options:
ORRO offers an unparalleled selection of over ten thousand in-house rings and jewelry designs, giving you an abundance of choices for your perfect piece of jewelry. Our online store showcases a comprehensive collection of our most popular designs, while our offline showrooms provide access to an even larger assortment of actual samples for you to try on and admire.

If you're an international online customer and can't find the exact design you're looking for, simply reach out to our customer support team with a description or reference. Our vast collection of designs includes many options that may not be featured on our website, but we're always happy to help you find the ideal piece to suit your unique taste.
In addition to creating one off bespoke jewelry pieces, we also offer a range of flexible customizations to our existing designs. Our team of skilled artisans can make modifications to our existing designs to suit your preferences and needs, such as changing the alloy type, adjusting the size of the main or side diamonds or gemstones, making the band of the ring thicker or thinner or even incorporating personal engravings.

We understand that every customer is unique, and we strive to provide a personalized experience that meets their specific requirements. Our customizations allow our customers to create a truly one-of-a-kind piece that reflects their personal style and taste.

Hand-Crafted to perfection:
Our master jewelry craftsmen and gem cutters work tirelessly to ensure that each piece of jewelry is meticulously crafted to perfection. Each diamond or gemstone is carefully cut and polished, with attention paid to its depth, symmetry, and proportions, to maximize its brilliance and beauty. Our jewelry pieces are then carefully inspected to ensure that they meet our rigorous quality standards before they are leave our workshop.

Whether it's a simple solitaire engagement ring or a complex statement necklace, our skilled artisans treat each piece with the same level of care and attention to detail. This is what sets ORRO apart from other jewelry brands and ensures that our customers receive the highest quality hand-crafted jewelry that will be treasured for a lifetime.
Ethical & Environmentally Friendly:
In addition to being conflict-free and ethically grown, ORRO's lab-grown diamonds are also environmentally friendly. The process of growing diamonds in a laboratory uses significantly less energy and produces far fewer carbon emissions than mining for natural diamonds.
Furthermore, our commitment to sustainability extends to our packaging and manufacturing processes, which are designed to minimize waste and reduce our environmental footprint.
At ORRO, we believe that ethical and sustainable practices are not just a responsibility, but a core value that we must uphold in all aspects of our business.
That's right! At ORRO, we believe that everyone should have the opportunity to enjoy and appreciate the beauty of fine jewelry without having to break the bank. That's why we have created a range of jewelry pieces that are not only visually stunning, incredibly brilliant, but also affordable.

With our certified lab-grown diamonds and certified premium diamond simulant jewelry set in 18K gold or platinum, our customers can have access to exquisite jewelry at a fraction of the cost of naturally mined diamond jewelry.
Many people are willing to pay exorbitant amounts for naturally mined diamonds because of the perceived value and rarity, but in reality, lab-created diamonds offer the same visual appeal and quality at a fraction of the cost. ORRO's commitment to using lab-created diamonds allows customers to enjoy the beauty and elegance of fine jewelry without breaking the bank.