Given the precious and refined craftsmanship of your ORRO jewelry, we recommend you to take due care in its use and handling to ensure that its splendour is maintained over time.
Protecting Your Platinum Vermeil Jewelry
We recommend that our customers remove their platinum vermeil jewelry before going to bed or engaging in physical activity, and rings should be removed while taking a shower. The jewelry should avoid exposure to chlorine, chemicals or salt water, as this will dull the jewelry appearance.

We advise customers to avoid direct contact of their ORRO jewelry with strong chemicals such as perfume, hand lotion, and cosmetics as that can damage the jewelry. Hence, it is advisable to wear the jewelry after applying these materials. Furthermore, exposure to excess heat can cause the metals to expand, and setting to loosen, resulting in stones dropping.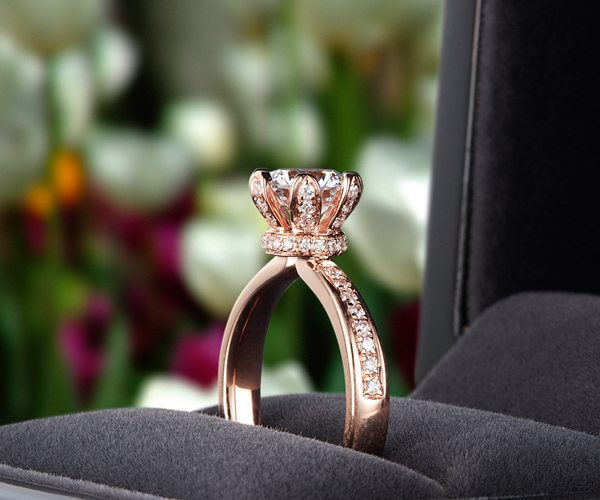 At ORRO, we provide complimentary professional cleaning & polishing service at our showroom to restore the shine on your jewelry pieces. You may drop by any of our showrooms for our free cleaning & polishing service. This service would take approximately 30 minutes to 1 hour.
However, if your piece has many deep scratches, we will have to send the piece back to our workshop for a more thorough clean & polish. We will also re-plate it at the end. This service is available at a nominal charge.
Add a small amount of mild soap to lukewarm water and use a soft toothbrush to brush the jewelry gently in a circular motion. Then, rinse the jewelry with clean water. Toothbrushes are ideal for cleaning jewelry with patterns, which can otherwise be difficult to clean. In cases where dirt is hard to remove, soak the jewelry in the soapy water for approximately 5 to 10 minutes before brushing.
Storage of Platinum Vermeil Jewelry
Jewelry should be stored away from natural sunlight and heat, in a protected (lined) jewelry box or a tarnish-resistant pouch to avoid scratches and prevent tarnish. Jewelry can also be stored in a zip lock bag.

Polyvinyl plastic bags, such as trash can liners should not be used as they contain sulphur compounds, or rubber containers which will make platinum vermeil jewelry tarnish faster and may also turn platinum vermeil jewelry black. Avoid storing your jewelry in moist and damp areas such as in the bathroom.
Please note that our ORRO gift boxes are not made for long-term storage as they are not airtight, and tarnishing will occur over time.

Avoid rough handling of jewelry. To avoid scratching your jewelry, items of jewelry should be kept separately when not in use. Take care not to drop on hard surfaces or expose to hard knocks as this may result in the prongs being displaced and causing stone to fall off.
At ORRO, we provide a lifetime guarantee that our stones will retain its brilliance for life and that it will not lose its shine. In order to maintain your ring, we also provide a complimentary professional cleaning & polishing service at our showroom to restore the shine on your jewelry pieces. General wear and tear, misuse, tarnishing, unauthorised services and modifications are not covered by warranty.
Our resizing service is available for rings, necklaces and bracelets at a nominal charge.
However, this service might not be available for certain products due to their unique design.