Samantha Quek
Beautiful ring!! Like it especially with the small blings on the ring!
Su Min
Got it as our couple ring. A very unisex design that guys can accept as well
Gene Lim
Like how the stones are hidden at the side view of the rings! Not too attention seeking
N. Noridah
Got my first personalised ring from here. Like it a lot 😊
Ahmad
Saw it online and decided to drop by the store to take a look at the physical ring.
Jas
Personalised ring makes every ring feels unique to each wearer! 👍
Jasmine
Simply Luv It! 👍 Available in rose or yellow gold colour as well. Very happy with my purchase!
Nurul A.
Nice memento ring. Purchased it as a surprise gift
Shakilah
Received this ring from my BF. I've been wearing it everyday
Ling
Can't take my eyes off this ring. Pretty Pretty!
Abdul Aziz
A very simple and classic design!
James Tan
A very unique design. Love it that it can personalised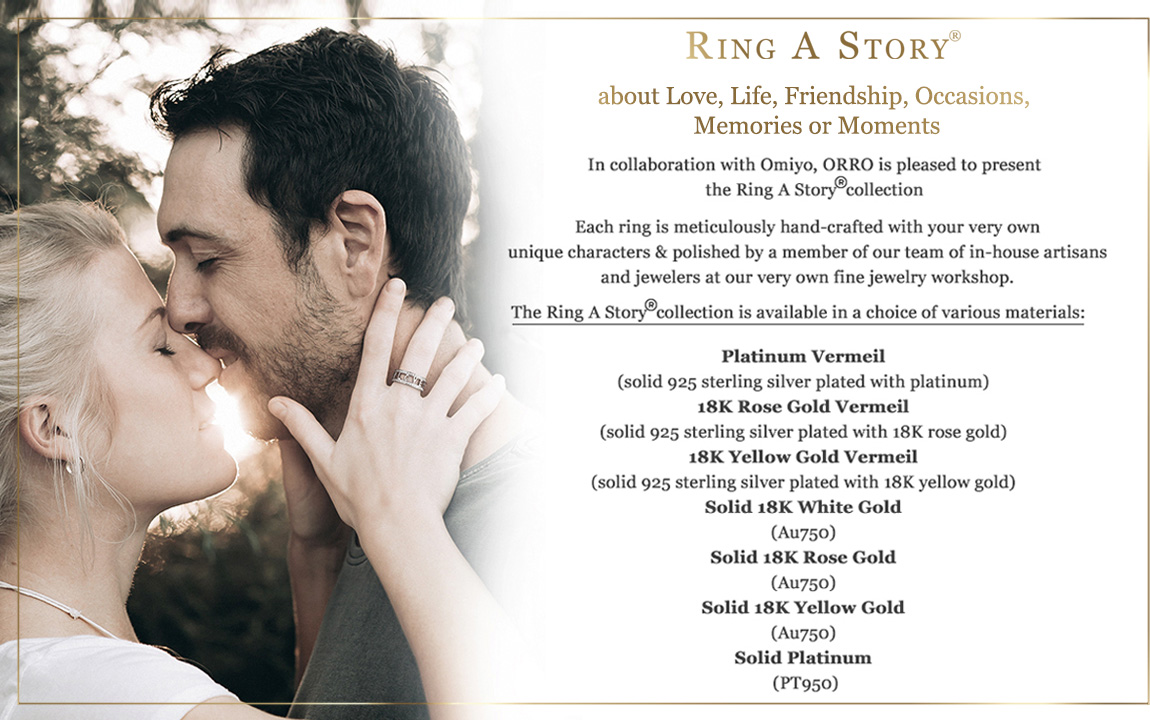 Discover Our Personalized Ring Designs
Gone are the days where you pick up a ring off the shelf from standardized banal designs in readily available sizes that may not fit perfectly. Select a ring model from our collection of award-winning designs and personalize it with a message of your own! At ORRO, each ring is individually created & crafted in your exact ring size with a meaningful string of text or symbols of your choice - Each personalized with a meaningful message for a truly personal touch.

Each ring is designed for your personalized text to bring form and texture to the ring thus every ring is different.
When worn on the finger, each ring is a personalised work of art.
When taken off, appreciate what is written on the ring as a keepsake treasure.