Beautiful and rare, diamonds are desired for their sparkle and exquisiteness. When you buy a diamond there are four points that you should always consider, collectively better known as the Four C's. Similarly, at ORRO our stones are scientifically grown using state-of-the-art and proprietary science before being hand cut & hand polished in line with stringent global grading benchmarks used in the genuine diamond industry. Each and every facet follows a mathematical formula and is placed at precise angles in relation to each other - the result is what many consider the world's best diamond simulants. After all, every one of our very own master stone cutters has over fifteen years of experience cutting and faceting naturally mined diamonds.
CUT
COLOR
CLARITY
CARAT WEIGHT
Refers to the precise symmetry and proportions of the stone, which is what gives the rock its sparkle and brilliance. There are many diamond shapes to choose from, with the round brilliant cut being the most common.
The world's most desirable diamonds are colorless. The best color is D, which is almost clear white. The color scale descents from down through the alphabetical order all the way to Z – moving further away from colorless towards yellow or brown tints.
Diamonds have small imperfections embedded within them known as inclusions. The fewer the inclusions, the more valuable the stone is.
This is the size of the stone. The word carat comes from the carob seeds that were used to balance scales during ancient times.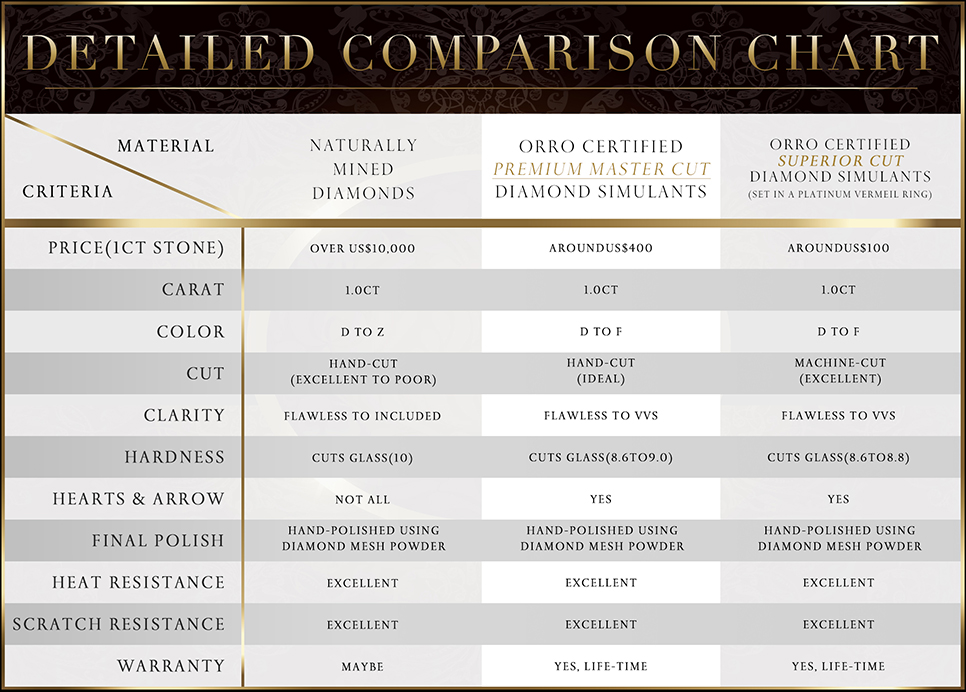 Premium Machine & Hand Cut Diamond Simulants
ORRO uses only premium grade lab-grown diamond simulants which flawlessly replicates the brilliance of a genuine diamond. Matching the light performance of a natural diamond ray-for-ray, ORRO certified diamond simulants have found its place among the world's most beautiful gemstones.
Each ORRO diamond simulant stone is cut in a manner that adheres to the industry's most stringent diamond cutting standards as set by the Gemological Institute of America (GIA) - the world's foremost authority on diamond grading. A computer model based on GIA data confirms that an ORRO certified diamond simulant offers the same brightness as a Tolkowsky Diamond.
ORRO proudly presents the opulent extravagance of large diamonds, complemented with the elegance of centuries-old craftsmanship. ORRO Private Collection offers you real jewelry at prices which won't cost the world.
ORRO Solid 18K Jewelry & ORRO Solid Pure Platinum (PT950) jewelry
All solid 18K gold & solid pure platinum (PT950) ORRO jewelry are set with ORRO's Premium Master Cut Diamond Simulants – a hand-cut & hand polished lab-grown diamond simulant that is painstakingly cut & polished to precision by our master cutters in our in-house workshop facility. This is done in the same manner each facet of a naturally mined diamond is cut & polished to maximize brilliance, following the industry's most stringent diamond cutting standards.
ORRO Platinum Vermeil Jewelry
All Platinum Vermeil ORRO jewelry are set with ORRO's Superior Cut Diamond Simulants – a machine-cut & hand polished lab-grown diamond simulant that is created in a manner whereby every facet of the stone is cut to precision and adheres to the industry's most stringent diamond cutting standards as set by the Gemological Institute of America (GIA) - the world's foremost authority on diamond grading